About Vaginal Rejuvenation
Through the side effects of menopause, aging, and childbirth, the tissue and/or skin of the inner and outer vagina can become lax, causing functional difficulties. Nonsurgical vaginal rejuvenation utilizes radiofrequency (RF) to tighten the inside of the vagina and treat symptoms, like sexual dysfunction, vaginal dryness, and urinary stress incontinence. Nonsurgical vaginal rejuvenation stimulates the growth of collagen, which in turn strengthens the vaginal wall's resilience and elasticity. It is an excellent, minimally-invasive choice to cosmetically improve the appearance of the vagina and address potential medical conditions. To find out more about nonsurgical vaginal rejuvenation, schedule a consultation with cosmetic plastic surgeon Dr. William Vinyard at Vinyard Institute of Plastic Surgery in Port Saint Lucie, FL.
Reviews
"I learned about this office on site for plastic surgery, and they came up with a high rating. I reached out and was able to get a consultation in very reasonable amount of time. When I came in each one of the staff was extremely helpful. And they seem genuinely happy to be there and greet you. The office itself is prestine. I suppose it would be expected, but it seemed exceptional. I went in for a simple procedure to fix my earlobes, and they price I was quoted was very reasonable, and procure went on without a hitch. Dr. Vineyard himself was very kind, informative, and seemed actually kinda excited and interested in fixing my lobes which I found kinda cool. All in all this establishment deserves the 5 star rating, and the staff deserves the recognition as well. I am doubtful people have left unsatisfied. I am super happy with my ear lobes, and just all around feel my better with my appearance."
- S.A. /
Google /
Mar 09, 2020
"I was in very capable hands with Dr.Vinyard. He was extremely helpful, and very reasonable with the procedure I was asking for. He has a very good team supporting him creating an atmosphere that feels safe and comfortable. Would recommend to anyone thinking of getting any sort of procedure done by Dr.Vinyard abs his team."
- S.A. /
Google /
Mar 09, 2020
"Had my facetite procedure 6 months ago and the results are amazing. Dr.Vinyard and his amazing team made me so comfort from the consultation and after my procedure. It was a painless experience . I would highly recommend having the facetite treatment by Dr. Vinyard and his awesome team."
- A.M. /
Google /
Feb 27, 2020
"Great Bedside Manner and Always Responsive! - I am in love with Dr. Vinyard's bedside manner. The experience at his facility is amazing. The staff does such a great job at comforting you. Dr. Vinyard and his staff is always responsive. The technology TouchMD makes it so easy to communicate in just a couple minutes."
- C. /
RealSelf /
Feb 27, 2020
"I Had an Amazing Experience! Very Comfortable Office - I feel very comfortable, very inviting when in the office. I love the staff, and they are very welcoming. From the time I walk into the office and out I feel so invited. The experience with Mary Louise and Dr. Vinyard is amazing and I could not be more happier with the results."
- H. /
RealSelf /
Feb 25, 2020
Previous
Next
You could be a great candidate for nonsurgical vaginal rejuvenation if you are interested in addressing vaginal issues or appearance, but you are not interested in undergoing cosmetic surgery. This procedure strengthens your vaginal canal, improves urinary control, increases natural moisture and lubrication, decreases sexual discomfort, and enhances sexual arousal and climax. The procedure also provides amazing results with no downtime. Most individuals return to their daily activities immediately following treatment.
Nonsurgical vaginal rejuvenation can be performed in-office in around 45 minutes. No anesthesia is required for the treatment. For the procedure, a wand applicator will be slowly waved over the exterior of your labia and vulvar tissues. The handpiece may be inserted into your vagina as it emits controlled radiofrequency (RF) energy to the tissues and other internal structures to stimulate collagen, which tightens the area. The wand contains a built-in thermometer to adjust the temperature as needed to prevent burns or injury.
A recovery period is not usually necessary following a nonsurgical vaginal rejuvenation procedure. You may return to your everyday activities upon the conclusion of the treatment. For maximal results, Dr. Vinyard highly recommends three treatments in one-month intervals. Many of our patients notice results after the first or second session while some may not notice them for up to three months following the procedure. These results usually last up to 18 months, but annual follow-up treatments will help you retain them.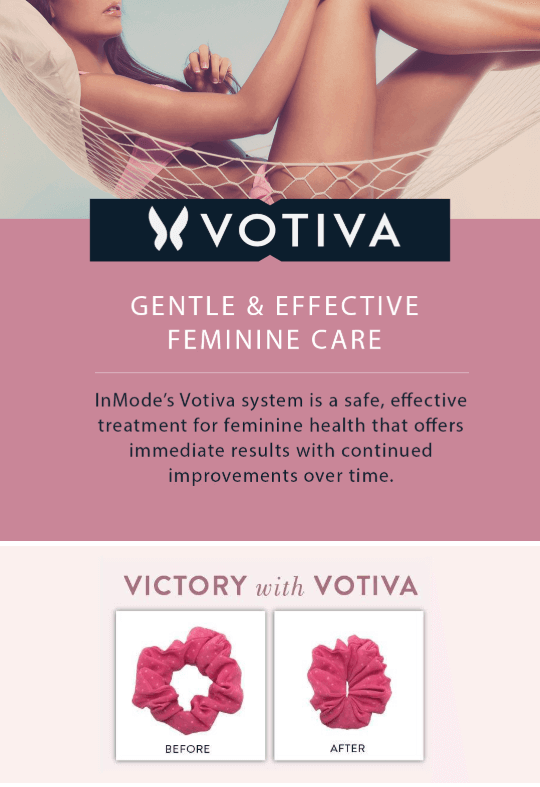 Frequently Asked Questions
How much does laser vaginal rejuvenation cost?
The cost of vaginal rejuvenation will depend on your unique goals and the number of sessions needed to attain your desired outcome. Vinyard Institute of Plastic Surgery realizes this procedure is a life-transforming option for many women as they gain back their confidence and improve the look, feel, and function of their intimate area. For this reason, we offer flexible payment options to help make this treatment more affordable.
Does laser vaginal rejuvenation treat loose skin?
Laser vaginal rejuvenation is recommended for women who seek a higher degree of vaginal tightness within the vaginal walls. By treating the internal muscles, many women experience an improvement in vaginal dryness, urinary incontinence, and sexual pleasure. However, if you are concerned about loose skin on the external lips of your vagina, then a labiaplasty may be a better option.
Can I combine laser vaginal rejuvenation with other procedures?
Yes. Many women opt to combine another procedure with their vaginal rejuvenation. Some of our most popular combinations include a thigh lift and tummy tuck. We also offer other treatment options, including liposuction and mommy makeovers, which can create an overall body rejuvenation.
Nonsurgical vaginal rejuvenation is a great option if you want to counter some of the signs and symptoms that come along with menopause, childbirth, and aging. It can also improve the appearance of your vagina. To learn more about vaginal rejuvenation, contact Vinyard Institute of Plastic Surgery in Port Saint Lucie, FL. Skilled plastic surgeon Dr. William Vinyard can help you attain a gorgeous figure with vaginal rejuvenation.
Related Posts