About Vaginal Rejuvenation
Through the side effects of menopause, aging, and childbirth, the tissue and/or skin of the inner and outer vagina can become lax, causing functional difficulties. Nonsurgical vaginal rejuvenation utilizes radiofrequency (RF) to tighten the inside of the vagina and treat symptoms, like sexual dysfunction, vaginal dryness, and urinary stress incontinence. Nonsurgical vaginal rejuvenation stimulates the growth of collagen, which in turn strengthens the vaginal wall's resilience and elasticity. It is an excellent, minimally-invasive choice to cosmetically improve the appearance of the vagina and address potential medical conditions. To find out more about nonsurgical vaginal rejuvenation, schedule a consultation with cosmetic plastic surgeon Dr. William Vinyard at Vinyard Institute of Plastic Surgery in Port Saint Lucie, FL.
Reviews
"It's impossible to find a finer surgeon! - I looked all over before I decided on Dr. Vinyard for my tummy tuck and breast lift. I work in the medical community so therefore it was important to me to pick a great doctor I could interact with before and after my surgery. Many of the plastic surgery practices in Florida are store front, strip malls with their own extremely questionable surgical suites and zero aftercare . This is not the case with Dr. Vinyard. While having surgery at an outpatient surgical center costs a little bit more, it saves you the headache of wondering how clean the room was and if you will be safe from post surgery infections. The surgical center where he operates is the finest in the area! I literally remember nothing from just moments after my IV was started until I arrived home. No time to be nervous about anything! When comparing surgeons, belly buttons and incisions are the main thing to look at after safety and overall aesthetics. It was important to me to look natural. Dr Vinyard really takes his time getting he incision line thin and symmetrical and I have yet to see him do a bellybutton that isn't perfect. My bellybutton is cuter now than it has ever been. I am thrilled with my results. He pulled my waist in beautifully and got rid of all the excess skin and fat above the stomach muscle with no lipo needed. I also need to mention my results with the breast lift. I went into my consultation thinking I may need a small implant ( which I was dreading because I don't like idea of something foreign inside me). Dr V was very honest with me and let me know I had plenty of tissue to get the look I wanted without additional implants, which was a huge relief. I am certain many other surgeons would have taken he opportunity to up-sell gummy implants. I found out after-the-fact that he trained under the top breast reconstruction specialists in the USA. This was a huge bonus. Initially the tummy tuck was the most important part of this MMO for me. Now I just love all the results!I can't end this review without praising the amazing staff at Plastic Surgery VIP's. Behind every great man there is a great woman, but in his case there are a half dozen great women! Being a patient at this practice truly is a concierge experience and it is because of them. Mary Louise and Gina are the best. They are so personable, caring and professional. Thank you ladies for holding my hand every step of the way."
- J. /
RealSelf /
Dec 07, 2020
"The entire staff is wonderful and Dr Vinyard is great. He takes his time to explain procedures and ensure you are informed and comfortable with everything. Highly recommend!"
- C.L. /
Facebook /
Dec 04, 2020
"Dr.Vinyard is a phenomenal doctor. I had and continue to have a great experience through my surgery and after my surgery. My mom, my daughter and I all had surgery done with Dr.Vinyard and we are so satisfied with our results and we would recommend him to anyone who is interested. His nurse practitioner Mary is very sweet, kind and patient! I love the mermaid team and there's no one else I would go to but Dr.Vinyard he's the best and takes his time and makes sure his work is done well!"
- A.P. /
Google /
Dec 02, 2020
"incredibly amazing experience with no pain! - Incredible Wonderful experience!!! If I could give 10 stars I would! Let me start by saying I have done 14 years of research to find my PS and after my very first phone call to Dr Vinyard's office after contacting various others I knew I found my surgeon. Not only is Dr Vinyard & Nurse Practitioner Mary Louise comforting, reassuring and educated, they are AMAZING! The office staff are also incredibly knowledgeable and ready to assist and answer any questions you may have. It is so comforting knowing that when you call your dr someone actual answers the phone.I was prepared for surgery with everything I needed to get me through each day. At Pre-op all the medication needed was sent in. I was shown how to take care of drains and supplies needed for post op were apart of the wonderful app My Touch MD. I am so thrilled that I found my forever PS & staff. I am currently 2 weeks post op with NO PAIN! Look no further VIPS is where you need to be! The best care EVER!"
- R. /
RealSelf /
Nov 11, 2020
"I am a breast cancer patient and in absolute love with V.I.P. The team is amazing and caring ❤ 😍 Dr. Vinyard is Amazing and love his singing. Thank you so very much for restoring not only my body but my piece of mind!"
- S.M. /
Facebook /
Oct 28, 2020
Previous
Next
You could be a great candidate for nonsurgical vaginal rejuvenation if you are interested in addressing vaginal issues or appearance, but you are not interested in undergoing cosmetic surgery. This procedure strengthens your vaginal canal, improves urinary control, increases natural moisture and lubrication, decreases sexual discomfort, and enhances sexual arousal and climax. The procedure also provides amazing results with no downtime. Most individuals return to their daily activities immediately following treatment.
Nonsurgical vaginal rejuvenation can be performed in-office in around 45 minutes. No anesthesia is required for the treatment. For the procedure, a wand applicator will be slowly waved over the exterior of your labia and vulvar tissues. The handpiece may be inserted into your vagina as it emits controlled radiofrequency (RF) energy to the tissues and other internal structures to stimulate collagen, which tightens the area. The wand contains a built-in thermometer to adjust the temperature as needed to prevent burns or injury.
A recovery period is not usually necessary following a nonsurgical vaginal rejuvenation procedure. You may return to your everyday activities upon the conclusion of the treatment. For maximal results, Dr. Vinyard highly recommends three treatments in one-month intervals. Many of our patients notice results after the first or second session while some may not notice them for up to three months following the procedure. These results usually last up to 18 months, but annual follow-up treatments will help you retain them.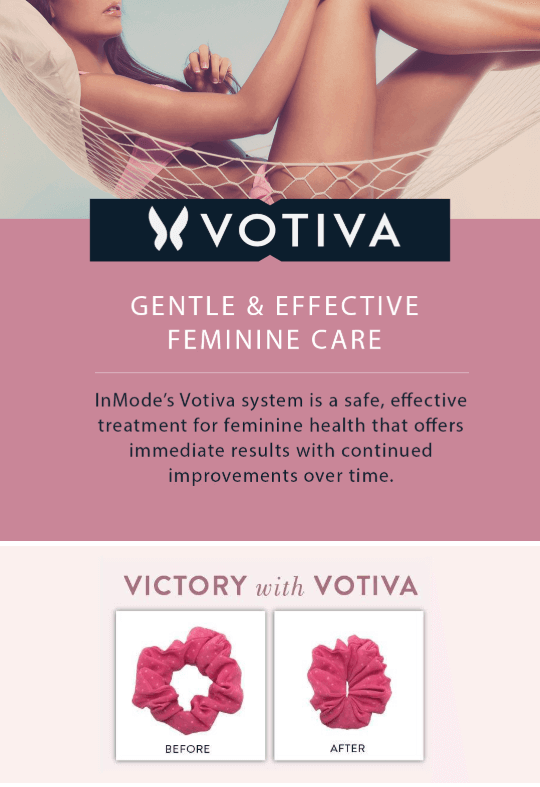 Frequently Asked Questions
How much does laser vaginal rejuvenation cost?
The cost of vaginal rejuvenation will depend on your unique goals and the number of sessions needed to attain your desired outcome. Vinyard Institute of Plastic Surgery realizes this procedure is a life-transforming option for many women as they gain back their confidence and improve the look, feel, and function of their intimate area. For this reason, we offer flexible payment options to help make this treatment more affordable.
Does laser vaginal rejuvenation treat loose skin?
Laser vaginal rejuvenation is recommended for women who seek a higher degree of vaginal tightness within the vaginal walls. By treating the internal muscles, many women experience an improvement in vaginal dryness, urinary incontinence, and sexual pleasure. However, if you are concerned about loose skin on the external lips of your vagina, then a labiaplasty may be a better option.
Can I combine laser vaginal rejuvenation with other procedures?
Yes. Many women opt to combine another procedure with their vaginal rejuvenation. Some of our most popular combinations include a thigh lift and tummy tuck. We also offer other treatment options, including liposuction and mommy makeovers, which can create an overall body rejuvenation.
Nonsurgical vaginal rejuvenation is a great option if you want to counter some of the signs and symptoms that come along with menopause, childbirth, and aging. It can also improve the appearance of your vagina. To learn more about vaginal rejuvenation, contact Vinyard Institute of Plastic Surgery in Port Saint Lucie, FL. Skilled plastic surgeon Dr. William Vinyard can help you attain a gorgeous figure with vaginal rejuvenation.
Related Posts