Usually found on the face and upper thighs, spider veins are small, branching blood vessels that are visible through the skin. Caused by many factors, like genetics and age, spider veins can be red, blue, and purple, which makes them difficult to mask. Since these unattractive veins usually multiply over time and become more visible, it's advisable to seek treatment when you first notice them. To decrease the visibility of blood vessels on the face and body, Vinyard Institute of Plastic Surgery offers noninvasive laser vein removal treatments for Port Saint Lucie, FL residents. In your private consultation, board-certified plastic surgeon Dr. William Vinyard will suggest a personalized plan based on your unique needs and goals for your laser vein treatment.
Reviews
"I learned about this office on site for plastic surgery, and they came up with a high rating. I reached out and was able to get a consultation in very reasonable amount of time. When I came in each one of the staff was extremely helpful. And they seem genuinely happy to be there and greet you. The office itself is prestine. I suppose it would be expected, but it seemed exceptional. I went in for a simple procedure to fix my earlobes, and they price I was quoted was very reasonable, and procure went on without a hitch. Dr. Vineyard himself was very kind, informative, and seemed actually kinda excited and interested in fixing my lobes which I found kinda cool. All in all this establishment deserves the 5 star rating, and the staff deserves the recognition as well. I am doubtful people have left unsatisfied. I am super happy with my ear lobes, and just all around feel my better with my appearance."
- S.A. /
Google /
Mar 09, 2020
"I was in very capable hands with Dr.Vinyard. He was extremely helpful, and very reasonable with the procedure I was asking for. He has a very good team supporting him creating an atmosphere that feels safe and comfortable. Would recommend to anyone thinking of getting any sort of procedure done by Dr.Vinyard abs his team."
- S.A. /
Google /
Mar 09, 2020
"Great Bedside Manner and Always Responsive! - I am in love with Dr. Vinyard's bedside manner. The experience at his facility is amazing. The staff does such a great job at comforting you. Dr. Vinyard and his staff is always responsive. The technology TouchMD makes it so easy to communicate in just a couple minutes."
- C. /
RealSelf /
Feb 27, 2020
"Had my facetite procedure 6 months ago and the results are amazing. Dr.Vinyard and his amazing team made me so comfort from the consultation and after my procedure. It was a painless experience . I would highly recommend having the facetite treatment by Dr. Vinyard and his awesome team."
- A.M. /
Google /
Feb 27, 2020
"I Had an Amazing Experience! Very Comfortable Office - I feel very comfortable, very inviting when in the office. I love the staff, and they are very welcoming. From the time I walk into the office and out I feel so invited. The experience with Mary Louise and Dr. Vinyard is amazing and I could not be more happier with the results."
- H. /
RealSelf /
Feb 25, 2020
Previous
Next
Laser vein removal treatments at Vinyard Institute of Plastic Surgery can minimize the look of small- to medium-sized blood vessels that are on the face and body. Frequently known as spider veins, these blood vessels are rarely a medical problem, but they are considered a cosmetic issue. Many people avoid certain clothing (like shorts and swimsuits) or use a large amount of concealer to try to cover up these veins. Laser vein treatments are a good option for patients who are in good health, do not have a history of blood clots, and are not pregnant.
Nonsurgical laser vein removal treatments are completed in our Port Saint Lucie, FL office as an outpatient procedure in about 20 – 40 minutes, depending on the size and number of areas being addressed. During your laser vein reduction, you will lay comfortably in a private treatment room as the affected area is cleaned. If requested, a topical anesthetic can be applied before your procedure to reduce any potential discomfort. The laser handpiece is passed over the area so the energy can target the veins through a series of pulses that don't harm the rest of the body. The abnormal blood vessel soaks in the laser energy, which closes the walls of the veins. You will be able to leave our office immediately to resume your normal routine.
Right after your laser vein removal treatment, you may notice bruising, swelling, and redness, but these symptoms should dissipate in around 7 – 10 days. For optimal healing, support or compression garments may be worn to encourage the circulation of blood. It's important to avoid prolonged sun exposure, and you should apply sunscreen frequently to the treated skin. Certain patients notice visible improvements right away, but outcomes will vary for each patient. In your initial consultation with Dr. Vinyard, realistic expectations will be discussed along with recommendations on how many sessions are needed to get your best results. More spider veins will probably form over time so follow-up procedures may be needed every few years.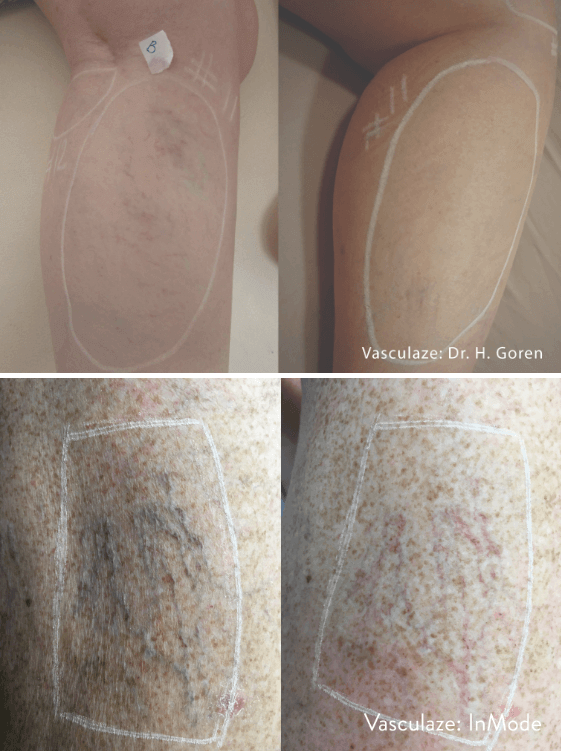 Frequently Asked Questions
How much does laser vein removal cost?
Your laser vein removal treatment is priced based on how many veins are being treated and how many sessions are suggested to get your ideal results. At your initial consultation, we will evaluate your veins, the size of them and location, and develop your custom treatment plan to help establish a cost. Vinyard Institute of Plastic Surgery offers several payment options and we frequently offer specials on treatments, like laser vein removal.
Does the vein go away?
Laser vein removal treats the vein with a focused beam of light that heats up the vein and then destroys it. The laser system is very precise and is highly focused on the target area so it will not affect the nearby skin. After the vein collapses, it takes about 4 – 6 weeks for it to be reabsorbed by the body and disappear.
Where can laser vein removal be used?
Unwanted spider veins are often found on the face, upper thighs, back of the legs, and around the ankles. For areas in both the face and body, laser vein removal can be helpful to reduce the appearance of unwanted veins. Our cutting-edge laser uses precision so the nearby tissue and skin are generally unaffected.
Is laser vein removal painful?
Prior to the procedure, we may apply a local anesthetic to numb the area. Most patients report feeling a tingling or snap as the laser focuses on the vein. Most lasers on the market, including the one our practice uses, have a built-in safety feature that helps provide a cooling effect. This decreases discomfort while at the same time prevents the laser from getting too hot, which can result in a burn or additional damage.
If you've been concealing or covering visible spider veins on your face and body, learn about nonsurgical laser vein removal treatments at Vinyard Institute of Plastic Surgery in Port Saint Lucie, FL to improve the appearance of your skin. In your consultation, cosmetic plastic surgeon Dr. Vinyard can assess your skin and formulate a personalized treatment plan that best addresses your concerns.