Usually found on the face and upper thighs, spider veins are small, branching blood vessels that are visible through the skin. Caused by many factors, like genetics and age, spider veins can be red, blue, and purple, which makes them difficult to mask. Since these unattractive veins usually multiply over time and become more visible, it's advisable to seek treatment when you first notice them. To decrease the visibility of blood vessels on the face and body, Vinyard Institute of Plastic Surgery offers noninvasive laser vein removal treatments for Port Saint Lucie, FL residents. In your private consultation, board-certified plastic surgeon Dr. William Vinyard will suggest a personalized plan based on your unique needs and goals for your laser vein treatment.
Reviews
"It's impossible to find a finer surgeon! - I looked all over before I decided on Dr. Vinyard for my tummy tuck and breast lift. I work in the medical community so therefore it was important to me to pick a great doctor I could interact with before and after my surgery. Many of the plastic surgery practices in Florida are store front, strip malls with their own extremely questionable surgical suites and zero aftercare . This is not the case with Dr. Vinyard. While having surgery at an outpatient surgical center costs a little bit more, it saves you the headache of wondering how clean the room was and if you will be safe from post surgery infections. The surgical center where he operates is the finest in the area! I literally remember nothing from just moments after my IV was started until I arrived home. No time to be nervous about anything! When comparing surgeons, belly buttons and incisions are the main thing to look at after safety and overall aesthetics. It was important to me to look natural. Dr Vinyard really takes his time getting he incision line thin and symmetrical and I have yet to see him do a bellybutton that isn't perfect. My bellybutton is cuter now than it has ever been. I am thrilled with my results. He pulled my waist in beautifully and got rid of all the excess skin and fat above the stomach muscle with no lipo needed. I also need to mention my results with the breast lift. I went into my consultation thinking I may need a small implant ( which I was dreading because I don't like idea of something foreign inside me). Dr V was very honest with me and let me know I had plenty of tissue to get the look I wanted without additional implants, which was a huge relief. I am certain many other surgeons would have taken he opportunity to up-sell gummy implants. I found out after-the-fact that he trained under the top breast reconstruction specialists in the USA. This was a huge bonus. Initially the tummy tuck was the most important part of this MMO for me. Now I just love all the results!I can't end this review without praising the amazing staff at Plastic Surgery VIP's. Behind every great man there is a great woman, but in his case there are a half dozen great women! Being a patient at this practice truly is a concierge experience and it is because of them. Mary Louise and Gina are the best. They are so personable, caring and professional. Thank you ladies for holding my hand every step of the way."
- J. /
RealSelf /
Dec 07, 2020
"The entire staff is wonderful and Dr Vinyard is great. He takes his time to explain procedures and ensure you are informed and comfortable with everything. Highly recommend!"
- C.L. /
Facebook /
Dec 04, 2020
"Dr.Vinyard is a phenomenal doctor. I had and continue to have a great experience through my surgery and after my surgery. My mom, my daughter and I all had surgery done with Dr.Vinyard and we are so satisfied with our results and we would recommend him to anyone who is interested. His nurse practitioner Mary is very sweet, kind and patient! I love the mermaid team and there's no one else I would go to but Dr.Vinyard he's the best and takes his time and makes sure his work is done well!"
- A.P. /
Google /
Dec 02, 2020
"incredibly amazing experience with no pain! - Incredible Wonderful experience!!! If I could give 10 stars I would! Let me start by saying I have done 14 years of research to find my PS and after my very first phone call to Dr Vinyard's office after contacting various others I knew I found my surgeon. Not only is Dr Vinyard & Nurse Practitioner Mary Louise comforting, reassuring and educated, they are AMAZING! The office staff are also incredibly knowledgeable and ready to assist and answer any questions you may have. It is so comforting knowing that when you call your dr someone actual answers the phone.I was prepared for surgery with everything I needed to get me through each day. At Pre-op all the medication needed was sent in. I was shown how to take care of drains and supplies needed for post op were apart of the wonderful app My Touch MD. I am so thrilled that I found my forever PS & staff. I am currently 2 weeks post op with NO PAIN! Look no further VIPS is where you need to be! The best care EVER!"
- R. /
RealSelf /
Nov 11, 2020
"I am a breast cancer patient and in absolute love with V.I.P. The team is amazing and caring ❤ 😍 Dr. Vinyard is Amazing and love his singing. Thank you so very much for restoring not only my body but my piece of mind!"
- S.M. /
Facebook /
Oct 28, 2020
Previous
Next
Laser vein removal treatments at Vinyard Institute of Plastic Surgery can minimize the look of small- to medium-sized blood vessels that are on the face and body. Frequently known as spider veins, these blood vessels are rarely a medical problem, but they are considered a cosmetic issue. Many people avoid certain clothing (like shorts and swimsuits) or use a large amount of concealer to try to cover up these veins. Laser vein treatments are a good option for patients who are in good health, do not have a history of blood clots, and are not pregnant.
Nonsurgical laser vein removal treatments are completed in our Port Saint Lucie, FL office as an outpatient procedure in about 20 – 40 minutes, depending on the size and number of areas being addressed. During your laser vein reduction, you will lay comfortably in a private treatment room as the affected area is cleaned. The laser handpiece is passed over the area so the energy can target the veins through a series of pulses that don't harm the rest of the body. The abnormal blood vessel absorbs the laser energy, which closes the walls of the veins. You will be able to leave our office immediately to resume your normal routine.
Right after your laser vein removal treatment, you may notice bruising, swelling, and redness, but these symptoms should dissipate in around 7 – 10 days. For optimal healing, support or compression garments may be worn to encourage the circulation of blood. It's important to avoid prolonged sun exposure, and you should apply sunscreen frequently to the treated skin. Certain patients notice visible improvements right away, but outcomes will vary for each patient. In your initial consultation with Dr. Vinyard, realistic expectations will be discussed along with recommendations on how many sessions are needed to get your best results. More spider veins will probably form over time so follow-up procedures may be needed every few years.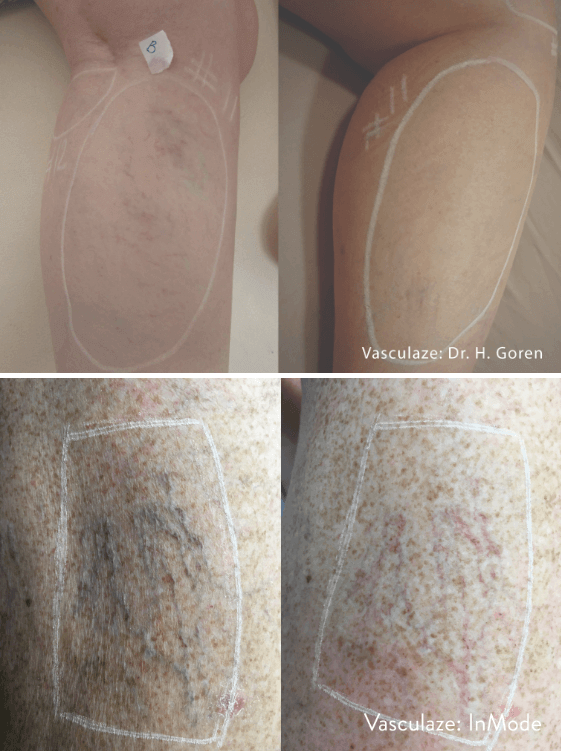 Frequently Asked Questions
How much does laser vein removal cost?
Your laser vein removal treatment is priced based on how many veins are being treated and how many sessions are suggested to get your ideal results. At your initial consultation, we will evaluate your veins, the size of them and location, and develop your custom treatment plan to help establish a cost. Vinyard Institute of Plastic Surgery offers several payment options and we frequently offer specials on treatments, like laser vein removal.
Does the vein go away?
Laser vein removal treats the vein with a focused beam of light that heats up the vein and then destroys it. The laser system is very precise and is highly focused on the target area so it will not affect the nearby skin. After the vein collapses, it takes about 4 – 6 weeks for it to be reabsorbed by the body and disappear.
Where can laser vein removal be used?
Unwanted spider veins are often found on the face, upper thighs, back of the legs, and around the ankles. For areas in both the face and body, laser vein removal can be helpful to reduce the appearance of unwanted veins. Our cutting-edge laser uses precision so the nearby tissue and skin are generally unaffected.
Is laser vein removal painful?
Most patients report feeling a tingling or snap as the laser focuses on the vein. Most lasers on the market, including the one our practice uses, have a built-in safety feature that helps provide a cooling effect. This decreases discomfort while at the same time prevents the laser from getting too hot, which can result in a burn or additional damage.
If you've been concealing or covering visible spider veins on your face and body, learn about nonsurgical laser vein removal treatments at Vinyard Institute of Plastic Surgery in Port Saint Lucie, FL to improve the appearance of your skin. In your consultation, cosmetic plastic surgeon Dr. Vinyard can assess your skin and formulate a personalized treatment plan that best addresses your concerns.